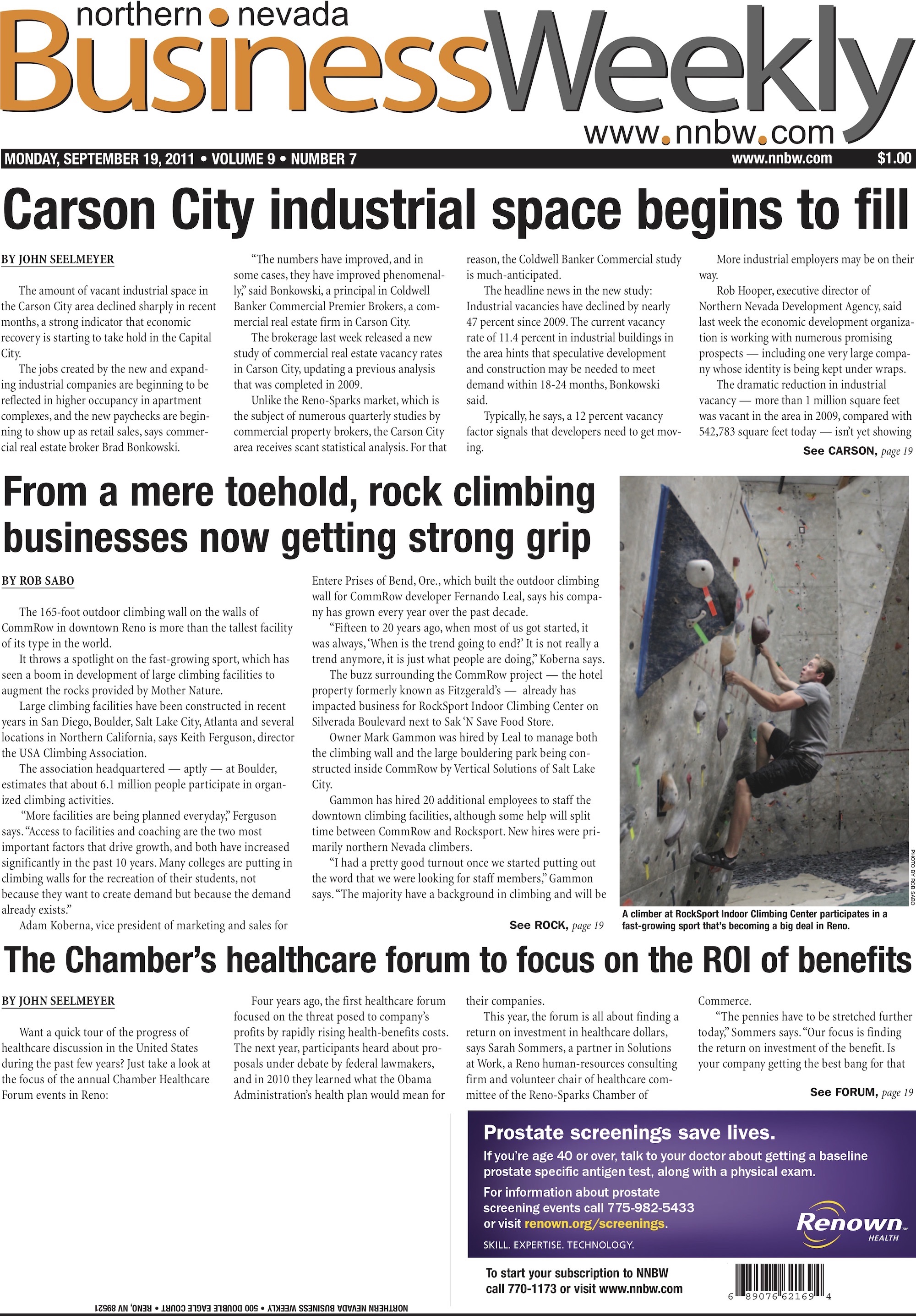 Past Pages, September 19, 2011: Carson City's industrial space begins to fill up
Cover of September 19, 2011, Northern Nevada Business Weekly.
EDITOR'S NOTE: Each week in 2021, we feature excerpts from articles published ten years ago to give readers a 10-year perspective of economic news in the region. This week's stories were first published in the September 19, 2011 edition of the NNBW.
---
Carson City's industrial space begins to fill up
The amount of vacant industrial space in the Carson City area has fallen sharply in recent months, a strong indicator that the economic recovery is starting to take hold in the capital.
Jobs created by new expanding industrial companies are starting to translate into higher occupancy of apartment complexes, and new paychecks are starting to show up as retail sales, says commercial real estate broker Brad Bonkowski.
"The numbers have improved, and in some cases they have improved dramatically," said Bonkowski, director of Coldwell Banker Commercial Premier Brokers, a commercial real estate company in Carson City.
The vacancy rate for industrial buildings in the region has fallen by almost 47% since 2009. The current vacancy rate of 11.4% in industrial buildings in the region suggests that speculative development and construction could be needed to meet demand within 18 to 24 months, Bonkowski said.
– Page 1, by John Seelmeyer
With one foot, climbing companies now have a strong hold
The 165-foot outdoor climbing wall on the walls of CommRow in downtown Reno is more than the tallest installation of its kind in the world. It shines a spotlight on this fast growing sport, which has experienced a boom in the development of large climbing facilities to augment the rocks provided by Mother Nature.
Large climbing facilities have been built in recent years in San Diego, Boulder, Salt Lake City, Atlanta and several places in northern California, says Keith Ferguson, director of the USA Climbing Association, who estimates that around 6 , 1 million people participate in organized climbing activities.
Adam Koberna, vice president of marketing and sales for Entre-Prises of Bend, Ore., Which built the outdoor climbing wall for CommRow developer Fernando Leal, says his business has grown every year over the past year. decade.
– Page 1, by Rob Sabo
The Chamber's health forum to focus on the ROI of services
Want a quick tour of the progress of the healthcare discussion in the United States over the past few years? Just look at the purpose of the annual events of the Chamber Healthcare Forum in Reno.
Four years ago, the first forum focused on the threats posed to corporate profits by the rapidly rising costs of health care services. The following year, attendees heard about proposals being debated by federal lawmakers, and in 2010 the focus was on Obamacare.
This year's forum is all about finding a return on investment in healthcare dollars, says Sarah Sommers, partner of Solutions at Work, a Reno human resources consultancy and volunteer chair of the healthcare committee. of the Reno-Sparks Chamber of Commerce.
– Page 1, by John Seelmeyer